Resources
Childcare by Design develops educational resources to support understanding of the NQS, EYLF and MTOP as listed below.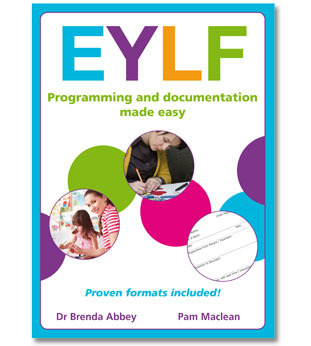 EYLF: Programming & Documentation Made Easy
Price: $132.00
This exciting follow-up DVD to EYLF: Putting it into practice covers all programming and documentation requirements of the EYLF (and of the National Quality Standard). It focuses on the changes that educators may need to make to meet these requirements.
This DVD addresses documenting:
parent and children's input;
learning stories;
individual child records and portfolios;
communicating the program;
educator reflection; and,
transition statements.
It contains colourful photographs, videos and examples of documentation formats. The DVD comes with a CD of EYLF program templates for educators to use or adapt to meet their own needs and personal preferences. It also suggests ways that educators can document the program by devising their own formats.
This DVD is especially designed to:
use during staff meetings
introduce new educators to programming and documentation under the EYLF; and,
revisit when required.